This post may contain affiliate links, which means we may receive a commission, at no extra cost to you, if you make a purchase through a link. Please see our full disclosure on the Affiliate Disclosure Page.
Waiting is hard, but God's timing is perfect. God has timing for you; it is for projects and life in general.
In your projects, you can plan your timelines and deadlines. Your milestones can be set for you, but God will allow your projects to come together in His perfect timing. He will set you up for the success He wants you to have. 
In life, I set my timelines, and God changes them to His timing. For example, when I graduated from high school, my plan was to graduate from college 4 years later as a high school band director. God, however, decided that I was not going to graduate in that timeline or with that degree. 
Seven years after my high school graduation, I finally walked across the stage at the University of North Carolina at Greensboro. I did not earn a degree in Music Education. My bachelor's degree is in Deaf Education, and I was a Sign Language Interpreter for 5 years. 
At the time, I didn't really pay attention to God guiding my steps. I knew it, but I wasn't watching it that way. 
Waiting on God's timing requires faith and patience. There is a purpose to waiting. God is never accidental, and He gives a purpose to absolutely everything. 
Importance of Waiting on God's Timing
In the world, we have everything at our fingertips. Just about anything we could desire is available with instant access. 
With God's timing, it is perfect. God shows us His faithfulness and prepares us for what is coming in the next season of our lives. 
Philippians 4:19 says, "But my God shall supply all your need according to his riches in glory by Christ Jesus." 
God will give us everything that we need based on His riches, which are unlimited by the way. However, there are times (ok, most of the time) that we have to wait on His timing in order to get it. He will never be too early or too late to give us what we need. 
In the Bible, there are many examples of people who had to wait on God's timing. Abraham had to do it twice–once when he waited on Isaac to be born and again when God had to provide a sacrifice instead of Isaac. 
Elizabeth and Mary also waited on children after God promised sons to them. 
Mary and Martha had to wait for Jesus to show up before their brother Lazarus could be raised from the dead. They thought Jesus was too late, but He proved that God's timing is always perfect. 
When you are waiting on God's timing, you can grow your trust in God. Instead of focusing on asking "when" something is going to happen, focus on "what" God is doing. If you don't have joy and peace, you aren't fully relying on and trusting God for your situation.
We have the desire to want instant gratification, and that can be detrimental to our Christian walk, our faith, and our waiting on God's timing. 
Proverbs 16:9 says, "A man's heart deviseth his way: but the Lord directeth his steps."
Like I said earlier, you can make plans, but God has the final say in the direction of your path. 
Proverbs 3:5-6 states, "Trust in the Lord with all thine heart; and lean not unto thine own understanding. In all thy ways acknowledge him, and he shall direct thy paths."
Lean on, trust on, and be confident in the Lord with all your heart and mind. Do not rely on what you know (or think you know) about what is going on.
5 Ways to Be Patient When Waiting on God's Timing
Pray A Lot
Prayer is the #1 way to achieve patience. Ask God to give you patience, but be ready for what He does to help you get it. Use prayer as your rock and guide when you are waiting on God's timing. 
Ask God to reveal your next steps and to open your heart to God's work in your current season. Pray that God will give you renewal and transformation in your time of waiting. 
I know that it's not easy to pray when you are frustrated with waiting, but it can help you to develop a habit and dependence on God. 
Philippians 4:6-7 says, "Be careful for nothing; but in every thing by prayer and supplication with thanksgiving let your requests be made known unto God. And the peace of God, which passeth all understanding, shall keep your hearts and minds through Christ Jesus."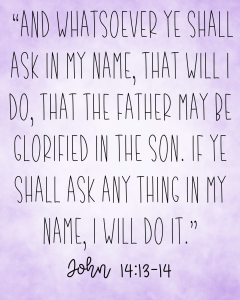 John 14:13-14 states, "And whatsoever ye shall ask in my name, that will I do, that the Father may be glorified in the Son. If ye shall ask any thing in my name, I will do it."
Pray for patience while waiting on God's timing in your life.
Read Your
Bible
You should study your Bible on a regular basis, but when you are in a season of waiting, study your Bible for guidance. 
Waiting is a season of preparation. It is preparing your heart for what is coming or for where God is moving in other areas of your life. 
Studying God's Word helps to keep you grounded in God's plan and promises. Bible study also reminds you daily that God's faithfulness will sustain you in your waiting. 
Study those in the Bible, like Abraham and Mary, who waited. Focus on scriptures that deal with patience in waiting. 
Romans 15:4 says, "For whatsoever things were written aforetime were written for our learning, that we through patience and comfort of the scriptures might have hope." 
Psalm 119:105 says, "Thy word is a lamp unto my feet, and a light unto my path." 
Surrender to the Process of Waiting on God's Timing
Change is a process that takes time. Don't fight the process because that is where God is working. Surrender to what He is doing in your life at the moment and what He is working on for your future. Submit yourself and your life to God's timing, plan, and process.
Psalm 37:5-8 says, "Commit thy way unto the Lord; trust also in him; and he shall bring it to pass. And he shall bring forth thy righteousness as the light, and thy judgment as the noonday. Rest in the Lord, and wait patiently for him: fret not thyself because of him who prospereth in his way, because of the man who bringeth wicked devices to pass. Cease from anger, and forsake wrath: fret not thyself in any wise to do evil."
Learn Lessons from the Waiting
Look for reasons God is having you wait. Pray for and learn the purpose of the waiting. God is working and will lead you to what you need to do. 
Ask yourself some questions:
–Do I need to prepare for the next steps or my next season?
–Is God working on my heart?
–Has God shown me something I need to do (or stop doing)?
–What has God taught me so far while I'm waiting?
God may be revealing sin in your life. If He is, confess and turn from it. 
You may need to forgive someone or ask for forgiveness. 
Dig into your heart to see if you have some old habits or beliefs you need to allow God to handle. 
Romans 5: 3-5 states, "And not only so, but we glory in tribulations also: knowing that tribulation worketh patience; And patience, experience; and experience, hope: And hope maketh not ashamed; because the love of God is shed abroad in our hearts by the Holy Ghost which is given unto us."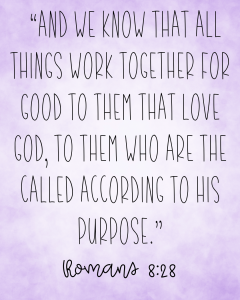 Romans 8:28 says, "And we know that all things work together for good to them that love God, to them who are the called according to his purpose."
Focus on Blessings While You Wait on God's Timing
Keep a gratitude journal. I wrote a series of posts about Gratitude that you can check out. 
Find joy in your situation. Don't focus on the future and where you are going. Focus on what you have now and the blessings surrounding you. 
Even in the storm, God is blessing you. Look for those points of grace and be thankful. 
Find ways that you can bless others. Is there someone God has laid on your heart? Pray for that person or do something nice for him/her. God has put him/her in your heart and in your mind for a specific reason. 
No matter what is going on around you, give thanks and praise to God for it. 
Study and read scriptures that help you to hold on to hope and lean into God more than ever. 
Philippians 4:8 says, "Finally, brethren, whatsoever things are true, whatsoever things are honest, whatsoever things are just, whatsoever things are pure, whatsoever things are lovely, whatsoever things are of good report; if there be any virtue, and if there be any praise, think on these things."
Matthew 7:7 states, "Ask, and it shall be given you; seek, and ye shall find; knock, and it shall be opened unto you:"
Micah 7:7 says, "Therefore I will look unto the Lord; I will wait for the God of my salvation: my God will hear me."
Conclusion
Waiting is never easy. It doesn't matter what you are waiting to receive. You could be waiting on a soldier to return from deployment. Medical test results, scores from a big exam, and news from the court are always hard to wait on. When we are waiting on God's timing, that is usually the hardest. 
The funny thing about waiting on God's timing is that no matter what else you are waiting on, it will come in God's time. The soldier you want to have home will arrive when God is ready for him/her to arrive. Those test results from the school or the doctor will show up when God says they can, and the results will be exactly what God has planned for you. 
God's timing is perfect, no matter what we want. We can't rush Him, and He is never late. Hold on to the promises He has given you and stay strong as you are waiting on God's timing.