This post may contain affiliate links, which means we may receive a commission, at no extra cost to you, if you make a purchase through a link. Please see our full disclosure on the Affiliate Disclosure Page.
Bible study has a significant place in believers' lives. It's more than reading the words on the pages of our Bibles; it's about diving deep into the teachings, gathering wisdom, and growing spiritually. Group Bible study can be transformative for the participants and the host. 
Today, we are going to delve into the importance of Bible study and the benefits of hosting. Then I will share how to prepare to host a Bible study. When you finish reading this, head over and read about being the Bible study host. 
Are you ready to learn how to host a Bible study? 

Why Bible Study is Important
Studying the Bible is a gateway to understanding the message in the sacred scriptures. It allows us to develop a deeper connection to our faith, discover insights, and experience spiritual transformation. 
What Engaging in Bible Study Does
Increase Knowledge and Wisdom
The Bible has valuable teachings that give us guidance, encouragement, and principles for leading our Christian lives. By studying, we can increase our knowledge of the biblical narrative, themes, and doctrines. 
Foster Spiritual Growth
Bible study helps us develop our spirituality by bringing us closer to God. We can consider our personal ideas and evaluate our life in light of biblical principles by studying the Bible. We can frequently align our lives more closely with God's will by studying the Bible. 
Finds Community and Support
By taking part in group Bible studies, we may feel a sense of connection and community. We may get together, learn from, and connect with those who have similar beliefs, have gone through similar things, and encourage one another on their spiritual journeys.

Benefits of Hosting Bible Study
Planning and hosting Bible study will take some time and effort on your part. However, the rewards are abundant. 
Leadership Development
Being the host of a Bible study is a path for personal growth as a leader. You will be able to enhance your communication skills, cultivate organizational abilities, and continue to grow the heart of a servant. 
Deeper Understanding
As the host of the Bible study, you are responsible for guiding the discussions. This entails answering questions and helping others understand the text more deeply. Teaching others may lead you to personal revelations and new understandings or perspectives of familiar Bible passages. 
As a teacher, I know that students will hold on to the information more quickly and for longer if I have them teach it to others. When you host a Bible study, you will hold to the lessons you teach for longer as well.
Funny side note: When I was a teenager, we had "Youth Sunday" once a year. On that Sunday, the youth did everything. We were in charge of Sunday School classes (for all ages), taught Children's Church, led praise and worship, had a youth choir, and the youth pastor preached the sermon. For most years, I worked with the children. This one specific year, I taught the adult Sunday School class. I had to teach about Paul and "Fighting the Good Fight." I still remember talking about the original Olympics and the crown of leaves that the winners were given. (I'm sure I tied that into the lesson, but I distinctly remember talking about that–stammering through it at least.) 
I said all of that to say that when you host a Bible study, you have to learn the scripture so you can teach it to others. By doing that, you will be able to remember the lessons God gives you for the study more readily. 
Impacting Others
By leading a Bible study, you have the chance to influence the other participants. Your leadership and guidance will enable them to develop spiritually, find peace in their faith, and forge closer ties with God. 
It sounds scary, but once you do it, it's not that bad. 
Preparation for Hosting a Bible Study
Choosing the Location
The right location for hosting Bible study sets up the meeting for success. Below is a list of a few things to consider when scouting out a location for your Bible study.
Accessibility
Is the location accessible to everyone you have invited? Will there be enough parking? Does the location have handicap accessibility? Is there a bathroom available for everyone to use? 
Capacity and Space
Be sure that your venue will hold everyone you invited and maybe a few extras. Will you have enough space if every person on the guest list actually shows up? What would happen if someone brought a friend? 
Think of places like private homes. Does your home have enough room for everyone? You could host it there. 
Consider a church. Maybe you don't have room at home, but you can access the church. Could everyone fit in a classroom or meeting area? 
A community space may be an option as well. Many cities allow you to rent (for free or cheap) community meeting rooms or banquet halls. 
Don't get something too small. It will be cramped and make it uncomfortable. Also, don't hold it in a space that is too big either. That could make it feel impersonal, and that's probably not what you are going for in a group Bible study. 
Resources and Amenities
Make a list of things you will need to host the Bible study. How many seats? Are you going to use tables? Do you need audio-visual equipment for presenting anything? Will the restrooms be available, and are they handicap accessible? Is the environment conducive to holding focused discussions? 
Creating the Right Environment
The environment for a Bible study should be warm and inviting. That makes it simpler to hold productive discussions while conducting the study. Here is a list of considerations for decorating the space and setting the mood. 
Room Arrangement
Set up the furniture so that the group members can interact and communicate easily. If you have comfortable seating, like couches and recliners, those are preferable to folding metal chairs. 
Lighting
The space needs to be well-lit, but it doesn't have to be extremely bright. You can use lanterns or lamps to make the atmosphere calmer. Be sure to use natural light and soft lighting when possible to create a soothing environment for Bible study. 
Choosing the Bible Study Topic
As the host of the Bible study, one of your biggest responsibilities (maybe the biggest) is selecting a study topic. 
Interests and Needs of Participants
If your Bible study group has been meeting together for a while, you can ask the other members for ideas of what they would like to study when it's your turn to host. Send out an email to the group with a Google form or an informal survey. Ask them for their areas of interest, preferences, or specific topics to explore. 
Another thing to consider is the spiritual maturity of the group. If you are all veteran Christians, you may go deeper into a topic than you would if it's a group of new Christians. 
Analyze the demographics of the group as well. A session on choosing the right partner might be more helpful to single women than to married couples who have been together for 20 years. 
Will the group have a mix of ages–children, teens, and adults? Are all participants women? Different demographics in the group will lead the study in a variety of directions. Just be sure to scope out who will be participating before you make a final decision on the lesson. 
Study Options
When it comes to Bible studies, there are a lot of options. Different studies may work better for specific learning styles and group interactions. Keep that in mind when you are picking your study. 
For example, right now, I'm doing a personal, year-long study called From Eden to Eternity from The Daily Grace Co. It's a chronological study through the Bible. Right now, I'm in 2 Samuel, 1 Chronicles, and Psalms. 
The Daily Grace Co. also has other studies–like book-based, topical, and character. I have some of those to go through for next year. If you want to check out some of the options available for each of the types I'm going to describe below, you can do that at The Daily Grace Co. 
Book-based Studies
To do a book-based study, you select a specific book of the Bible and study it in-depth. You can discuss the themes, teachings, figurative language, history, and context of that one book. 
An example is studying the book of Revelation. However, I would venture to guess that this is going to take more than one Bible study meeting. Plan accordingly. 
Topical Studies
Throughout the Bible, there are many topics–like love, peace, God, and mercy–that continue from the beginning to the end. You could choose one of those topics for a deep dive study. 
Another option for this would be to choose a theme from the Bible, like repentance, kingdom, Jesus, or sanctification. The Daily Grace Co. has a book called The Bible Themes Handbook and it leads you through some of the themes of the Bible and where to go for more information. 
Character Studies
Choose a character–David, Samson, Deborah, or Rahab–and study the life and faith of that person. This can give you insights and teach you lessons from the lives of those who walked before us. 
Setting a Schedule
In order to have the most people present and available for Bible study, you have to choose the best day, time, and frequency for meetings.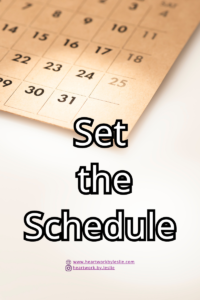 Frequency of Meetings
Are you starting a new Bible study group? Start thinking about how often you will meet. Do you want to meet weekly, or monthly, or is this a one-time Bible study? 
Day and Time
Ask your group members for input on the schedule. Ask what days and times work best for their schedules throughout the week. Check your own calendar to be sure you don't agree to something you can't continue. 
If there are 10 people in the group and only 2 of them are retired, you will want to plan for after-work hours. Unless everyone works at the same place and has lunch at the same time, you probably can't do a lunchtime Bible study once a week. 
Best Day and Time: Consider participants' schedules and choose a day and time that are convenient for the majority. Aim for consistency to establish a routine that participants can commit to.
Gathering Materials for the Bible Study
Required Resources
What do you need to have in order to host a Bible study? You'll need Bibles. Most people in the group will bring their own but have a couple of extras on hand just in case you need them. Maybe you could have a couple of different translations available to be able to compare the text in them. 
You will also need study guides. If you aren't using pre-purchased guides, like the ones from The Daily Grace Co., then you need to create or find study guides that go with your topic, book, or character. This will help you to stay on topic during the meeting, and it will give the group members things to think about. Consider putting in an outline of the lesson, discussion questions, and other scriptures that relate to the current reading. 
Additional Resources
To enhance the Bible study meeting, you can have some additional resources available, if you would like. 
Commentaries 
Bible commentaries help to give you insight into the historical and cultural context of the scripture. You can also see how different theologians address the passages you are studying if you look through a couple of commentaries on the same text. 
Devotional Books
You could possibly have a list of devotional books that you recommend for the participants to read. These should go along with the topic you are studying and should give more information and reflections for daily application. 
Online Resources
It may be beneficial to compile a list of related websites, podcasts, videos, and/or sermons to share with your group on the topic you have chosen. 
Conclusion
Preparing to lead a group Bible study takes planning. There are a lot of things to consider before you send out the first invitation. I know that I threw a lot of information at you today, but I'm hoping that you will be able to take this and begin the preparations for your Bible study group. 
Come back later this week, and I'll give you the information on how to invite people to Bible study and how to exactly lead it. 
In the meantime, if you have questions for me, leave them in the comments. I may be able to answer them in the next post.