This post may contain affiliate links, which means we may receive a commission, at no extra cost to you, if you make a purchase through a link. Please see our full disclosure on the Affiliate Disclosure Page.
Creating a Christ-centered home is essential for us, as Christian moms, who want to raise our children in a way that honors God and helps our children to grow spiritually. A Christ-centered home intentionally incorporates Christian values and principles into our daily lives. We create an environment where our entire family can thrive spiritually. 
But where do you start? 
Today, I will explore practical ideas and resources to help you create a Christ-centered home where your family can grow closer to God in their faith. These tips and tricks will be helpful whether you are a long-time, seasoned Christian or if you are just beginning your Christian journey. You will be able to use these ideas, tips, and resources to help you to create a Christ-centered home that fosters spiritual growth and honors God. 
Creating a Christ-centered Home
Start with Prayer and Bible Reading
Begin your day by spending time with God. This will help you focus on Him and seek His guidance for the day ahead. You can do this alone before the rest of the family wakes up, or you can involve your children and husband in the activity. 
One way to be sure your children are engaged with the Bible reading is to use a Children's Bible or devotional books. These typically have pictures or extra information to help children understand what they are reading and studying.
During this time, you can pray the scriptures over your children and your spouse. It's a great way to guide your prayers for those you love.  
Make Worship a Priority
To create a Christ-centered home, we should attend church services on a regular basis and participate in worship services. Doing this will help our families grow closer to God and build strong relationships and communities with other believers. 
Create a Prayer Wall
If you decide to do this, you will be able to be as creative or as simple as you'd like. Hang a bulletin board, large paper, or poster board in a prominent place in your home. If you have an extra wall and some chalkboard paint, you could use that as well. Family members will be able to see it often, but most importantly, they will be able to write their prayer requests on this.
Each time anyone passes it, they can say a quick prayer over the wall. At some point every day, you gather as a family to pray over the requests that are on the wall together.
Display Bible Verses and Christian Artwork
As a visual reminder of your faith in God and to draw near to Him, place Bible verses and/or Christian artwork throughout your home. 
This is another of those things where you can be really creative if you want. Have your children choose their favorite verses. Then have them draw a picture that represents that verse to them. Write the verse on a card, frame the picture and the card, and hang them on the wall. You and your husband can do the same thing.
If you do this, then your children hold a stake in helping to maintain the Christ-centered environment in your home. 
Have Regular Family Devotional Time
At the beginning of the post, I mentioned starting the day with prayer and Bible reading. If you choose to do this alone and your family isn't part of this with you, then you can set regular devotional time for the family.
This needs to be weekly at a minimum, but you can do it daily if you want. For this time of prayer and reading, you can use a family devotional book to help guide the discussions and reflections.
Serve Others
Serving others is a great way to show the love of God to your community. Try to find places in your area that will allow you to volunteer and serve as a family. This could be at a food bank, a homeless shelter, or a clothes closet. Volunteering as a family helps you to create a bond with one another, but it also encourages compassion and a heart for others. 
Incorporate Christian Media
Around the house, in the car, and everywhere possible, incorporate Christian media into your lives. You can use books, movies, and music throughout your daily life. These things will help to reinforce Christian values and principles for your family. Plus, they are positive influences on your lives as well. 
I just recently completed a book called I'll Say Yes by Amber Olafsson. It was an easy read, and it was powerful. I suggest that you grab a copy and read it for yourself. After you start reading it, tell all your friends about it. You will want them to read it too. 
Surround Your Family with a Christian Community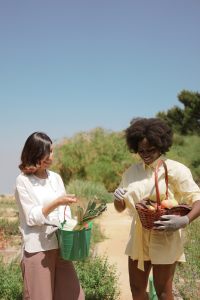 A Christ-centered home isn't only inside the walls of your house. It is also the friends, family, and community with whom you associate. 
Find Chrisitan friends for yourself and your spouse. Then help your children to understand how to do the same. 
Be sure that the church you attend feeds your soul, aligns with what God has told you, and is a strong community. If, for any reason, your current church isn't a match for your needs any longer, you may need to search for a new church. 
Once you find your Christian community, they will be able to give you support, accountability, and encouragement for your family's spiritual growth. The biggest plus to a Christian community is that you have even more people to help you pray over things in your life. 
Keep a Gratitude Journal
A gratitude journal is a great way to record the things everyone in your family is thankful for. You can keep a list of prayer requests (like the ones on the prayer wall) and answers to those prayers. Be sure to put a date for each answer when it comes. 
Have each person in the family write in the journal on a regular basis. You may have to assist young children, but they can tell you what to write. Better yet, allow the youngest members of the family to draw in the journal or on a paper that you put into the journal. 
You may also want to encourage older children, especially teens, to have a personal gratitude journal. This will begin to instill the art of being grateful into them at an early age. 
During your family devotional time, you can read through and reflect on the entries. This will build a spirit of thankfulness and appreciation for God's blessings in your family, and it is a great Christ-centered activity to do together.
If you need help finding things to be grateful for, first check out this post. Then click here to get your FREE gratitude prompt cards.
Establish Family Traditions
A Christ-centered home may include quite a few traditions, and they can be a meaningful way to reinforce your family's growing faith in God. Traditions are a great way to create memories that will last a lifetime as well. 
Some examples of Christ-centered traditions are celebrating Advent and/or Lent, having a special meal for Easter and/or Christmas, and doing a family service project for a season or holiday. 
The trick to family traditions is that they are centered around your family. You get to decide what works best. Once you choose your traditions, make them a regular part of your family's life.
Conclusion
Some additional resources to consider that may be helpful in creating a Christ-centered home include Christian books, podcasts, and online resources. Do a little research to find resources that align with your family's values and interests. Once you find the resources you like, use them to deepen your family's understanding of God and help your family grow in faith.
Creating a Christ-centered home is an ongoing process. You have to be intentional about it because it requires dedication and effort on all parts–yours and your family's. If you incorporate some of these practical ideas, tips, and resources into your home, you will be able to create a home that honors God, fosters spiritual growth, and builds bonds in your family. 
Remember that there is no right way or wrong way to create a Christ-centered home. Each family will do it a little differently based on that family's needs and expectations. It's okay to start with one tip and add another later. You don't have to do them all at once. 
The most important thing to keep in mind when you are creating a Christ-centered home is to make Christ the center of your home and family life. Seek Him through prayer, Bible reading, and worship. He will guide you on how to do the rest. 
I encourage you to begin taking action today to establish a Christ-centered home for your family. Let's create homes together that reflect the love, mercy, and grace of Christ.