This post may contain affiliate links, which means we may receive a commission, at no extra cost to you, if you make a purchase through a link. Please see our full disclosure on the Affiliate Disclosure Page.
When you think about packed school lunches, PB&J or ham and cheese sandwiches come to mind. While sandwiches certainly make for nice school lunch, they are not your only option. Mix it up by fixing some alternative school lunch options for your kids this school year.
Alternative School Lunch #1: Make It A Wrap
A quick and easy alternative to a sandwich is a wrap. Grab some tortillas and fix your child's favorite sandwich as a wrap. Wraps are also great for adding lots of lettuce and extra veggies. Hummus and cucumbers make a delicious vegetarian lunch option.
When you're done adding your toppings, roll it up like a burrito and if desired, cut it in half. The wrap is good as is, or you can pack a small serving of salad dressing to dip. Ranch dressing is always a favorite around here. Just make sure you pack it in a small, airtight container so your child doesn't end up with ranch all over his/her lunch box (ask me how I know). If you need a cute container for the dressing, try this one.
Alternative School Lunch #2: Snack Food And Lunchables
I have yet to meet a child that doesn't love Lunchables. But have you looked at the price of those found at the grocery store lately? Plus I'm not the biggest fan of the food options. Why not make your own version instead with fresh ingredients and food you know your child will eat? Start with some sandwich meat and cheese cut into bite-sized pieces. Add some fresh raw veggies like sliced cucumber, cherry tomatoes, and baby carrots. Throw in some fresh or dried fruit and you have a delicious, healthy, homemade version.
Of course, you can turn any of your child's favorite snack foods including popcorn, trail mix, crackers, cheese, fruits and veggies, and the likes into lunch. Grab a container with lots of little dividers (bento boxes are perfect) and fill them up with kid-friendly favorites. You can check out last week's post about Bento box lunches.
Alternative School Lunch #3: Healthy Salads For Lunch
Salads are another great lunch option, particularly for older children. Get a container with a tight-fitting lid and add all your child's favorite salad ingredients minus the dressing.
Start with a bed of lettuce greens, add raw veggies, croutons, bacon bits, nuts (if the school allows students to have nuts in their lunches) and seeds, and the like. Top it with a source of protein like cheese, hard-boiled egg, ham or turkey, or even some grilled chicken.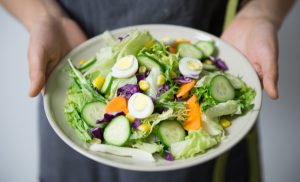 Pack dressing in a separate container along with a fork and napkin and lunch is done. You can assemble the salad the night before and store it in the fridge. Or, you can use a portable salad container. It will hold each part of the salad separately until lunchtime, and there is even a spot for the dressing. The key is to make sure all your ingredients are very dry. If you're washing your lettuce, use a salad spinner, or dry it on some paper towels before starting to pack it. Cutting everything into small bite-sized pieces will ensure that the lunchtime salad is easy to eat. 
Catch Up
This is the fifth and final post in a series about Healthy School Lunches. You can catch up with the whole series here. 
How to Pack School Lunches That Your Kids Will Actually Eat
Simple Tools to Get Organized and Make Fixing Lunches Easier
Hot Lunch Options for the First Cool Fall Days