This post may contain affiliate links, which means we may receive a commission, at no extra cost to you, if you make a purchase through a link. Please see our full disclosure on the Affiliate Disclosure Page.
Recently, I wrote about Waiting on God's Timing. 
Today, I want to discuss the benefits of waiting on God's timing. 
Every time we wait for what God has planned explicitly in our lives, we learn some things or gain something important in our lives. 
Benefits of Waiting on God's Timing #1–Endurance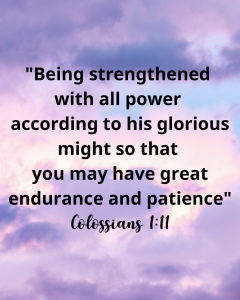 Most of the promises we receive from God will require endurance from us. We pray for things and believe that we will receive them. Based on the verse that God will give us the desires of our hearts, we know that He will give us the good things He has planned.
When we ask and believe, we have to wait on God's timing. We ask for a spouse, a promotion at work, our business to work, a child, or an acceptance letter to college. 
Most of those things take a little while, but in the process, we gain endurance while waiting on God's timing. God knows our abilities, and He makes us wait to prepare us. 
Benefits of Waiting on God's Timing #2–Preparation for the Promise
God knows what we need and when we need it. He gives us a promise and prepares us for it through waiting. 
Sometimes God shifts our priorities so we will desire what He has promised us. 
Benefits of Waiting on God's Timing #3–Protection from Danger 
Waiting on God's timing gives us the time we need to stop and listen. 
God causes waiting so that we have space to hear His voice. We won't be distracted by conflicting voices if we are listening intently to God's voice. 
In this space of waiting, God gives us encouragement, strength, and rest. Rest gives us protection from the things that we don't need in our lives. 
Benefits of Waiting on God's Timing #4–Education about God's Character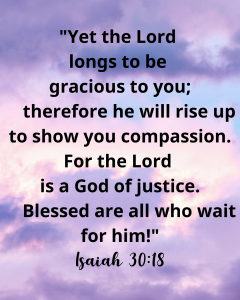 God wants to be gracious to us, and He will not withhold good things. He has planned good things for our lives, and He only has us wait for them so we can learn about His character.
God allows us to wait so that we can get to know Him intimately. 
Benefits of Waiting on God's Timing #5–Learn About Yourself
When we are waiting on God's timing, we can learn who we are and what we are capable of. 
During the waiting process, we can take the time to see the areas where we have grown. At this time, we can look at what we have been through and how we have survived it with God's grace. 
Take the time while waiting on God's timing to reflect on what God has brought you through and where He is taking you now. 
Benefits of Waiting on God's Timing #6–Assurance of the Promise
Accepting God's promise takes a leap of faith. Waiting on it causes your faith to grow. 
As we wait for God's timing, we are sometimes allowed to see pieces of the promises of God as He reveals them. 
For example, if I am waiting for God to provide a college acceptance letter, I may see parts of the promise while I wait. If I applied to 6 schools, God may have 5 of them return as "rejection" letters. As I get the letters in, I see that God is stopping me from attending those 5 schools. When the 6th letter arrives and is an acceptance, I get the promise of God through the affirmation that this is the school where He wants me.
While we are waiting on God's timing, we can see parts of the promise and assure ourselves that the final result we are expecting (or waiting for) is the right thing for us.
Benefits of Waiting on God's Timing #7–Time to Rest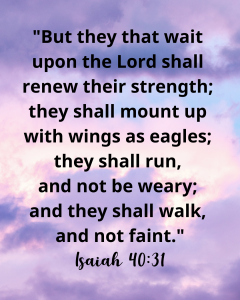 When we sit in the waiting room at the doctor's office, nail salon, or hair salon, we can rest. We can read a book, play on our phones, or rest our eyes (if we feel comfortable enough). 
It's the same when we are waiting on God. We can read God's word or rest in His grace.
In resting, we find the purpose and reason for things in our everyday lives. 
Rest breaks the cycle of striving because we have the promise of more. During waiting, we gain the rest that God desires to give us. 
Conclusion
Although this is a list of 7 benefits of waiting on God's timing, there are so many others as well. 
What other benefits have you gained from waiting on God? Has He taught you anything during a time of waiting? Were you able to gain a new perspective on yourself or of God during that time? 
Start a conversation in the comments. Let us know what you have learned from waiting on God. If you are in a season of waiting right now, let us know, and we will be happy to pray with you for your promise from God.