This post may contain affiliate links, which means we may receive a commission, at no extra cost to you, if you make a purchase through a link. Please see our full disclosure on the Affiliate Disclosure Page.
'Tis the season to shop for yourself and others. Today I'm offering suggestions for 30 gifts for babies, kids, and teens. 
You can head read this post next to find gifts for the Christian mom.
Keep reading for 30 gifts for babies, kids, and teens.
Gifts for Babies:
Name Puzzles
These are great for babies who are a year old and older. They can play with the wooden letters and shapes and begin to recognize their own names. 
These toys are great for babies to develop hand-eye-foot coordination. Babies from 3 months and above will love these colorful socks and toys. 
These are great for babies (children) of many ages. Babies can lie on their backs and play. As they get older, babies can do tummy time with this toy as well. Once they begin sitting up, the gym adjusts for babies to play with it while sitting. Then, finally, older children (walking children) can carry the piano gym around the house with them. 
If there is a gamer in the family, babies 3 months and older will love to play along. This controller allows the baby to pretend to play games with parents and older siblings. The different brightly colored buttons and knobs cause the controller to play sounds and songs for the baby. 
This tummy time mat has water in it, but it is tested so that it will not leak. It is a great way for babies 3 months and older to practice head and neck strengthening and control. 
This aquarium soother is too cute. My nephew has one of these in his room. He loves to watch the colors and hear the music. This is a great gift for babies, but it is also a gift for new parents as well. 
These books are brightly colored and soft. They help babies get used to books, which is great for cognitive development, but they also are good for babies to chew on. 
These bags have different toys to match the themes. Each has several soft toys for the baby to use for playing and learning. This link sends you to a page to choose from a few different themes of toys. 
This toy is great for newborns and up. The bright colors are eye-catching. Babies can chew on it for teething and soothing their gums. 
This is another item that my nephew has. It's so cute when he uses it because it looks like he's trying to suck his thumb, but he chews on the toy instead. Right now, they have them in several different colors. They are great for newborns and up because babies need something safe on which to chew. 
You may want to order a couple of them, just in case one gets lost. 
Gifts for Kids:
Next up in the gifts for babies, kids, and teens is the KIDS category. For this category, I tried to find something that would suit all types of interests. Some of these are inside toys, and others are outside toys. Some are games. I tried to find a mixture of electronic and analog choices as well. 
This would be great for the budding artist in your life. He/she can draw and erase over and over. This would also be a fun way for a younger child to learn to write letters. Make learning fun and give the child something to use on his/her own. 
Some of my nieces have a version of this, and the love it. They get to be creative and messy at the same time. Of course, here in town, we have an Our City Rocks group that paints rocks and hides them. If you look online, you may find one in your city as well. 
We paint and hide the rocks, but we "hide" them so they can be found. Whomever finds them takes a picture, posts it online, and then hides the rock again. It's neat to find the same rock over an over. If you paint the rock, you can put your initials on it. That way, if you find it again, you know for sure it is your exact rock. 
If you have a budding scientist in your house, this would be a great gift. Your kiddo can practice his/her science skills. Of course, you may have to help out some, but when was the last time you got to do the fun science experiments? We always see them on TV, but we never got to do them in our classes. Be a kid again with your favorite scientific kid with this science experiment kit; it contains 100 experiments. 
If you looked through the list of gifts for babies above, you see a water-filled tummy time mat. This would be great for the baby who has outgrown that mat or for the older siblings of the baby. The kids can draw, doodle, and play on the mat. 
Yes! This is the same game we played as kids. However, I think they have updated it a little to make it even better. When's the last time you played it? Personally, it's been years for me. I'd love to play again!  Who in your life would love to put the pieces together just to tap the contraption and watch it work? 
We all love classic UNO, so why not play with a themed deck? Plus, this deck comes with a special rule. It's only sold on Amazon, so you can grab it at my link. 
This is actually a set of bracelets. Your kiddo can share some with friends or cousins at Christmas. These make great stocking stuffers for kids of all ages. I know some teens and adults who would love them too. 
These would be great for the athlete in the family. Schools-aged children and older will love pushing, kicking, and chasing the hovering soccer balls through the yard. 
The set in the link has 4 clubs, 8 balls, and a cornhole-type board for the kids to using for practice. There is also another set that has the putting mat as well. The set you choose will depend on what you think your little golfer will light the best. 
The link specifies that this toy would be great for boys, but I know several young girls who would love to lauch airplanes. This would be great for any child who likes to see how things work and send items into motion. 
Gifts for Teens: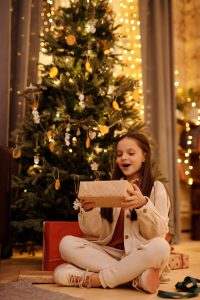 My final category of gifts for babies, kids, and teens, is the TEENS list. This category is like the kids list. I wanted to try to find things that the teens can use in a group (with friends/family). I also tried to be sure that there are some analog options that do not need batteries or wi-fi. I hope that some of these choices will be good for the teens in your life. 
As someone with ADHD, I'd love a set of these. I could keep my hands busy while doing other things, like writing or reading, that I need to get done. These would possibly be good for a student to take to class, if the school approves of course. 
This is great for these fall days. Your teen and his/her friends will be able to see the disc coming, even when the days get shorter. The disc could be used for family games and with friends. 
This game was created by a 7 year old. It is an analog game for 2-4 players, and everyone in the family can play. It's not just for teens, but I think it would be fun for them to play with their friends. 
The set on this link is for London and has more than 20,000 pieces. However, there are other options in this line of sets, and I think they would be fun for the up-and-coming architect in the family. It would also be a great family activity or a way for a homeschooler to practice different skills. 
I have always wanted to do an escape room. I tried to set one up for my students when I was teaching; it didn't work out, but I tried. This boxed escape room can be used again and again, and there are 3 options in it. Teens would probably like to try this with a group of friends; up to 8 people can play. They could try it in groups and see who escapes the fastest. 
We used to do these as kids too. I could never figure them out, and I always had to have someone tell me how to do it. Then, I couldn't get them back together to try again. This would be a gift to keep teens occupied for a little while, unless he/she looks up the answers online. 
My daughter loves these. She doesn't have this specific one but has had plenty of them in the past. This kit would be great for an artist or aspiring fashion designer. I love to see what people can come up with in tie-dye designs. If you get this, please post pictures in the comments of anything your teen makes (or you make) with it. 
I know that there is an experiment kit in the kids' Christmas list, but this one is supposed to be for older kids and teens. It would be fun for the family to do together and see what kinds of reactions you can make in the kitchen (or outside) with it. 
If your teen is into the stars and planets, this would be a great gift. Plus, he/she can attach a phone to it to be able to view what can be seen through the telescope. I have never used a telescope quite like this, but I think it would be amazing to have my phone connected to it so I could see things better and possibly more clearly. 
I know! I get it! This sounds crazy! However, I would love to have one of these to play with. When you go to the link, you need to watch the video to see how to use the hover ball. I think it would be amazingly fun indoors (if used carefully) or outdoors. A couple of people together or a large group could use it. The ways to use this seem endless. 
Conclusion
Each of these lists consists of things I would use for my own child, children, or family. I think all of these items would be great for families with babies, kids, and teens this Christmas. 
If you have other things you are looking into for Christmas, let me know. Tell me what your kiddos are asking for this year. As always, let's get a conversation going in the comments about gifts for babies, kids, and teens.