This post may contain affiliate links, which means we may receive a commission, at no extra cost to you, if you make a purchase through a link. Please see our full disclosure on the Affiliate Disclosure Page.
Are you looking for gifts for dads or men this Christmas? Today, you're in luck! Here is a list of 10 gifts for dads and men. 
A couple of weeks ago, I posted about gifts for moms and women. 
Just last week, I put up a list of 30 gifts for babies, kids, and teens. 
Check those out for the other people in your life you need to pick up gifts for. However, today is about gifts for dads and men. Let's get started! 
Calendar
As we all know, dads have a lot of "Dad Jokes." So, this gift will give him 365 jokes (maybe new to him) to use throughout the year. It's a pull-away calendar that gives Dad new joke fuel every day. 
Grilling Spices
If the dads or men in your life are anything like the ones in mine, they love to grill, and they love their spices. This gift for dads and men is a 20-piece set of grilling spices. They are bound to find something in this that they love. The bonus is that we, hopefully, get to sample the foods they use these spices on. It's a win-win gift! 
Wearables/Clothes
The first gift in this category is a Bluetooth beanie. This beanie has speakers in it so that he can use it for music or his phone, and it has a light on it. If he likes to work on cars or projects in the garage, he will like the extra light because with it on his forehead, it won't create as many shadows. 
The next gift in this group is something I think I may get for my husband this year. (I hope he doesn't see this post before I get them for him.) These are LED flashlight gloves. Instead of needing an "extra hand" for a flashlight, he can wear the light on his hands and direct it where he needs it. 
Multitools
The first multitool is a level, pen, ruler, stylus, and screwdriver all in one. It has a clip on it so that your man can try to keep up with it. 
The second multitool is 12 tools in 1. It has a hammer, screwdriver, nail file, knife, bottle opener, wire cutter, and more. 
Drone
If you are looking for a beginning drone as one of the gifts for dads and men in your life, I think this would be a good one. It has a camera on it, and it comes with a carrying case. 
He can use this to play with the kids. If you are a homeschooling family, he can use this to take pictures/videos of things in nature at the park to discuss with the children. He could also use it to teach the children different topics in science. 
Just think of all the fun that he could have with a drone. It would be something great to use with the entire family. 
Beard Trimmer
This gift is actually a 6-in-1 tool. He will be able to shave and trim any of his facial hair. If he is participating in "No Shave November," he will need this for Christmas this year. Or, if you have a man in your life who just loves to look good, this would be an amazing addition to his grooming tools. 
Slimline Wallet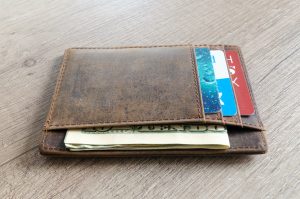 This RFID-blocking wallet is amazingly small. The original dimensions (before he adds anything to it) are less than 5" big. Just imagine how much better that will fit into his pocket than the bulky bi-fold or tri-fold wallet he has now. 
BONUS IDEA: Audible Membership
If you are searching for gifts for dads or men who love to read but don't have time to read physical books, an Audible Gift Membership would be perfect. He could find books for just about any topic. 
If he likes to fix things, he can probably find a book about how to do that. 
Does he like to create things? He could find books with tips and tricks for that as well. 
Or does he simply love to read? He can find books from any genre, most authors, and thousands of topics. 
Conclusion
Have you decided what to purchase as gifts for dads and men on your list? How many do you have? 
Comment below with what else you have found for the dads and men this Christmas. I'd love to see what all else you have found that your dad loves! Start a conversation in the comments about Christmas gifts! Don't forget to check out the posts for gifts for women and gifts for babies, kids, and teens.