This post may contain affiliate links, which means we may receive a commission, at no extra cost to you, if you make a purchase through a link. Please see our full disclosure on the Affiliate Disclosure Page.
With spring break around the corner, it is almost time to start thinking about end-of-the-year teacher gifts. Today, I'm sharing 10 teacher gifts that I would have loved any time during the school year. 
If you are still looking for spring break ideas, I found some free and really inexpensive ones and put them all in a list for you.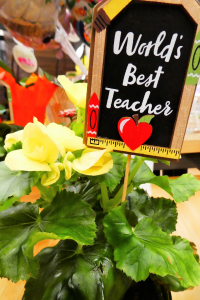 At Christmas, I posted a list of gifts for teachers as well. Some may overlap, but that's only because they are amazing. However, you can check that list out as well. 
As a former teacher, I am going to admit that I loved when students brought gifts. The price or extravagance of it didn't matter. It really was the thought that counted. My love language is gifts, and I love giving and receiving them. 
Today, I'm sharing 10 teacher gifts that are guaranteed to make him/her smile at the end of the year.
There are so many things you can give a teacher. However, if you honestly believe what this canvas print says, it will mean the world to your teacher when he/she receives it. The definition of a teacher on this wall art is beautiful and heartfelt. Your child's teacher will love it. 
Teachers often receive candles and mugs, but I have never had a student give me a blanket. This flannel blanket is warm and snuggly, but it will also remind the teacher of all of his/her amazing qualities. It is available in different styles and colors, so you can pick the one that best fits your child's teacher. 
These kits are great for teachers. They have hair ties, a bracelet, and a zipper pouch. You can always add anything else you'd like to, like candy or gift cards for the teacher. 
I have some of these with different sayings on them. I've had them for a few years, and I love them. If your child has a teacher who loves to cook, or if your child is taking a cooking class, you could get the teacher this set of 3 pot holders, and he/she will love them. There are different styles and colors to choose from. Check them out for the teacher who loves to spend time in the kitchen on his/her days off.
This set has a tumbler, tote bag, cosmetics bag, key chain, and so much more. You could give it all to one teacher, or you could separate it for a couple of different teachers. If your child is like my niece, he/she may have 6-8 teachers at a time in middle school. It's hard to buy big gifts for that many teachers, so you could break up this set and spread it out over a few of the teachers. 
Just about every one of my teacher friends keeps a journal. Some of them (including myself) keep several at a time. One of the best things I did when I was teaching was write down some of the things my students said. That means that I have some of the meanest insults, funniest comebacks, and lamest excuses ever written down in a journal. Now that I think of it, I don't know where that is at the moment. I'm sure it's still packed away in a box from the move last year. 
I think most teachers would love a place to be able to write down the things their students say–the good, the bad, and the hilarious.
I love the idea of having a bracelet that is in Morse Code. Not everyone will recognize it quickly, and it could be a great conversation starter. If you have a student who is taking any coding classes or military history classes, this would be a great idea for the teacher. 
No matter what subject a teacher teaches, he/she reads something. Sometimes it's only the books that the school is making them read for personal development, but they are reading something. This set of 10 bookmarks is great for a child who has several teachers. You can give one or two bookmarks to each teacher. This would be great for middle and high school students. (Note: High school teachers rarely get gifts from students. If you have a high school student, please find a way to give a gift to his/her teachers at the end of this year.)
This is a 2-piece set, and you could use it as a gift for two teachers. If you have an elementary student who has a teacher and a teacher assistant, you can get both of them the same gift from your child. 
I love writing in leather-bound journals. The look of these two is just amazing. They have a leather tie that goes around the entire journal to close it. They are beautiful, and I think that almost any teacher would love to receive something thoughtful like this. 
If you don't know what you want to get the teachers in your life, give them Amazon gift cards. That may seem like a cop-out, but it's not. You can show the teacher that you appreciate what he/she has done for your student this year, and it allows him/her to choose a gift for him/herself. 
For example, last year, in March, my family and I moved into our current house. I still have an Amazon Wish List of things I'd love to have for the house. Who knows? The teacher may be having or adopting a child, getting a new puppy over the summer, getting married soon, or moving into a new house. He/she probably has an Amazon Wish List that is a mile long, but he/she refuses to share it with anyone. 
An Amazon gift card allows him/her to purchase something from the list or to put money towards something on the list and keep saving. Many people will not spend money on themselves unless they are specifically told to, so put a note with the gift card that says, "This is to be used for your enjoyment. Please do not use it to purchase anything for your classroom or students. Use it for something I know you have been watching on your wish list." 
The teacher will love it because you allowed him/her to choose what he/she needed the most at that moment. Just know that the amount of money on the card doesn't matter. It's the amount of heart and thought you put into the note you give with it. 
Conclusion
Teachers work really hard all year. Although it appears they have a couple of months of vacation during the summer, they really don't. Typically, he/she is working on improving him/herself, working a second job, or planning for the following year. Giving a teacher a gift just to say Thank You at the end of the year will give him/her warm fuzzies to take into the summer "break." 
Any of the gifts above would be great for teachers. What are some other teacher gifts you have given to your child's teacher at the end of the year? Leave them in the comments.